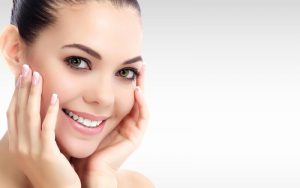 Thread facelifts are one of the newest innovations in treating skin laxity caused by aging skin. While skin resurfacing and fillers can address minor losses in firmness, there was typically little else that could be done besides a traditional facelift once the skin on the face began to droop. Dermgroup NYC is pleased to offer thread facelifts as an option for those who do not want to undergo the extensiveness of a full facelift but need more than fillers to firm the skin around their face and neck.
Frequently Asked Questions:
What Does the Thread Facelift Procedure Involve?
The thread facelift procedure involves having temporary sutures placed, under local anesthesia, in strategic areas of the face, which lift the skin. Typically, patients can expect this procedure to lift the skin a few millimeters, providing a subtle but noticeable improvement in firmness, smoothness, and overall youthful appearance.
Additionally, the placement of sutures provokes the body's healing response, which results in surges of collagen directed to the areas being treated. As we age, we produce less and less collagen, which leads to increasingly thin skin that cannot support the underlying tissue and results in a lax, wrinkled appearance. Collagen helps fight off some of these signs of aging, and thus the increased collagen production caused by the thread facelift also benefits your skin's overall appearance.
Who Are the Best Candidates for a Thread Facelift?
Thread facelifts are much more subtle than a traditional facelift and generally recommended for those in their late 30s to early 50s. Depending on your unique genes, your skin may lose too much elasticity to benefit much from a thread facelift beyond 55 years of age. Although, some patients may be physically unable to undergo surgery for a full facelift due to medical conditions or medications and might, therefore, still be able to benefit from the thread facelift procedure instead.
How Long Does it Take to Recover from a Thread Facelift?
Downtime after a thread facelift is minimal, and most patients can return to their normal activities by the following day. Some report mild tenderness, but overall do not need to take time off work or take heavy pain medication to manage the discomfort.
Call the Dermgroup NYC today at (212) 673-5633 to schedule an appointment for a consultation, or stop by one of our offices in New York City to learn more about aesthetic procedures we offer.