Dr. Omar Torres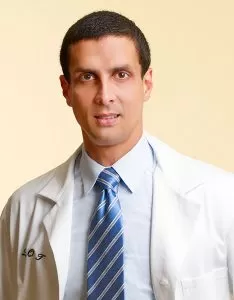 Dr. Omar Torres is a Board Certified dermatologist, as well as a Mohs and cosmetic surgeon. Dr. Torres completed his dermatology residency at Columbia University's St. Luke's-Roosevelt-Beth Israel Medical Center in New York, where he currently is an Assistant Attending and served as Chief Resident. Dr. Torres performed countless rejuvenating surgical procedures including facelifts, blepharoplasties, liposuctions, and laser treatments during an intensive two-year Mohs and cosmetic surgery program accredited by the American Association of Cosmetic Surgery.
He is a clinical professor and the Director of the Eyelid Surgery Clinic at the Department of Dermatology at the University of Puerto Rico and provides pro bono medical care to low-income patients.
A keynote speaker for various national and international dermatological and cosmetic surgery conferences, Dr. Torres teaches Mohs and cosmetic surgery in a Procedural Dermatology Fellowship accredited by the ACGME (the American Medical Board that sets the standards and the only recognizable body that accredits doctors and their specialties in the United States).
Dr. Torres has authored articles and publications on timely topics pertaining to cosmetic surgery and dermatology. He is a member of various professional organizations including the American Academy of Dermatology, the American Academy of Cosmetic Surgery, the American Academy of Dermatological Surgery, and the American Society for Mohs Surgery.
He is currently the Medical Director of DermGroupNYC in Gramercy Park in Manhattan, New York. Dr. Torres resides in Manhattan; he is an avid art collector and a former collegiate varsity tennis player.

---