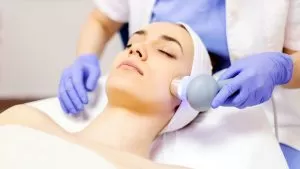 Laser Pigment Removal
Laser therapy is the treatment of choice for the removal of age spots, freckles, melasma, and tattoos. The laser selectively dissolves the pigment as it passes through the skin, leaving behind the smooth and clear skin.
FRACTIONAL CO2 LASER
Fractional CO2 Laser reverts sun-damaged, wrinkled skin back to a younger, healthy looking appearance by promoting tissue repair deep within the skin, while resurfacing its outer layer. The CO2 laser's Fractional Photothermolysis microbeams gently penetrate deep into the skin, encouraging incremental rejuvenation in the skin's deeper layers while the surface is refreshed.
Since the Fractional Laser does not "strip" the skin, patients are able to have a treatment and go back to their daily activities. Three to six treatments spaced 3-6 weeks apart are recommended, but most patients are impressed after the dramatic results in the first treatment. People with mild to moderate fine lines and wrinkles can benefit from this new laser technology, as well as those with mild to moderate acne scarring.

Frequently Asked Questions
What types of pigmented lesions will laser remove?
The Q-Switch laser is most commonly used for removing brown age spots, freckles and many types of brown birthmarks. We will identify your specific type of lesion and discuss the removal success rate associated with it.
Does laser therapy hurt?
The level of discomfort is different for every person depending on sensitivity; other considerations include the location and surface area to be treated. Most clients do not request any pain control during treatment and relate the discomfort as comparable to mild sunburn. Your therapist will discuss your options with you based upon your own tolerance and the body area to be treated.
Are there any possible unwanted effects of laser therapy?
Lasers have been around for decades and are proven safe and approved for use, occasionally we see some mild unwanted effects including redness, swelling, and light bruising of the treated area. These side effects typically endure for only a few days, less frequently there may be a more noticeable change in skin pigmentation after treatment.
We Can Help You
Call us to schedule your appointment today at (212) 673-5633 or visit us at one of our conveniently located New York offices to learn more about our extensive line of cosmetic dermatology procedures and how they could transform your appearance.