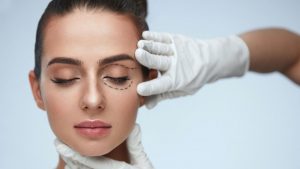 Blepharoplasty or Eyelid Surgery is a surgical procedure that corrects 'eye bags,' the bulging and sagging under the eye, and drooping eyelids. This is caused by the natural weakening of the skin, which is exacerbated with the passing of time, making you look older and tired.
Blepharoplasty, a one to two hour operation under local anesthesia, removes fat deposits from around the eyes leaving minimal or no scarring at all. In most cases, patients resume normal activities in a couple of days, and may return to work within a week. Any swelling and bruising generally subsides in 10 to 14 days.
LATISSE
Latisse is the first FDA approved prescription for the permanent growing and thickening of eyelashes, making them fuller and darker.
What is eyelid surgery?
Eyelid surgery, also known as an eyelid lift or blepharoplasty, is a cosmetic surgery procedure designed to tighten skin around the eyes to get rid of crepey eye skin, drooping eyelids, puffy bags, and dark circles.
How should I prepare for this procedure?
Even though eyelid surgery doesn't require an extensive recovery, you still need to plan ahead. That means taking a few days off work. Some people are ready to return within five to seven days, especially if just the upper lids are done. Lower lid blepharoplasty tends to take longer.
It is also important to have a transportation plan to and from surgery. Once you are home, ice packs will reduce swelling and speed up recovery. Your doctor may suggest you use baby soap for washing sutures. Have eye drops on hand for dry eyes after surgery, and large sunglasses for wearing outside.
What happens on the day of the procedure?
Eyelid surgery is relatively hassle free, especially compared to most plastic surgery. You don't need to go to the hospital or even an outpatient surgery center. Some surgeons perform the procedure in their office using local anesthesia.
The actual procedure consists of the surgeon marking the natural crease in your eyelid and removing extra skin around that. They may remove or contour the orbital fat around your eye. The procedure can be done using either a scalpel or a laser.
We Can Help You
Call us to schedule your appointment today at (212) 673-5633 or visit us at one of our conveniently located New York offices to learn more about our extensive line of cosmetic dermatology procedures and how they could transform your appearance.