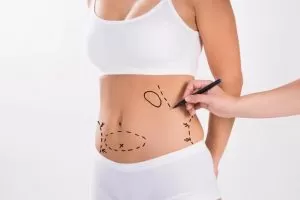 Tumescent Liposuction. Liposculpture
Liposuction, also known as liposcultpure, is a procedure used to recontour your body by removing fat deposits which cling on steadfastly in spite of diets and exercise. It is effective in shaping arms, thighs, waist, buttocks, and the rest of the body yielding balanced and natural-looking results. Liposuction may also be used in breast reduction for both males, a condition known as Gynecomastia, as well as for women.
Localized area liposuction, or microliposuction, can successfully remove small pockets of fat from the neck, chin, jowls and cheeks, recontouring the face, or even restore proportion to small areas like knees and ankles.
Above all, a patient who has undergone liposuction should not see fat deposits return, because once a fat cell is removed, the body does not replace it. Any subsequent increase in fat deposits in non treated areas will be responsive to diets and exercise.
Dermatologists also use tumescent liposuction to reshape:
Jawline, creating a more-defined profile
Neck, leading to a more youthful-looking appearance
Upper arms, decreasing their size
Back
Love handles, making them less noticeable
Waist, giving it more contour
Buttocks
Knees and inner thighs, creating thinner legs
Ankles
Dr. Omar Torres will speak with you about your concerns and tell you what may give you the results you seek.
Frequently Asked Questions
What are the risks involved with liposculpture and laser liposuction?
Fortunately, significant complications from liposculpture and laser liposuction are infrequent. Some potential risks include irregular contours, bruising and swelling, postoperative bleeding and blood clots in the legs. Your surgeon can fully explain the potential complications with you during your consultation.
How long does the surgery take and what recovery time is required?
Liposculpture and laser liposuction generally take from 1-2 hours. You will be required to wear a pressure garment 24 hours per day for 2-4 weeks following surgery, only removing it for showering. Most patients return to work 2-5 days after the procedure. Gentle walking and light stretching may be done after 14 days with normal activities being resumed after 6 weeks.
When can I expect to see the full results?
For the first 24-48 hours following the procedure there will be swelling and results will not be easily seen. The swelling will reduce over the first 14-21 days with about 60-70% of the final effect being visible. The final outcome of your liposcultpure or laser liposuction will be visible 3-6 months after the surgery.
We Can Help You
Call us to schedule your appointment today at (212) 673-5633 or visit us at one of our conveniently located New York offices to learn more about our extensive line of cosmetic dermatology procedures and how they could transform your appearance.