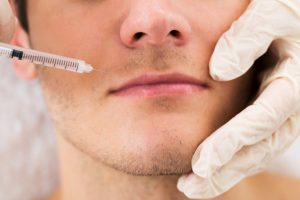 Lipoatrophy is a type of lipodystrophy, which refers to an abnormal distribution of fat in the body. "Lipoatrophy" or "Facial Wasting Syndrome," is a common condition among patients with HIV where much of their facial tissue beneath the skin is lost, causing depressions on the cheeks. The resulting gaunt appearance can be an obvious marker for patients of their HIV status.
Lipoatrophy is not curable, but can be succesfully treated with fillers, such as Sculptra™, Radiesse™, Perlane® , Restylane® , fat and silicone. Fillers are used to restore the volume lost due to facial wasting, attaining dramatic improvements.
Another manifestation of lipodystrophy includes the accumulation of fat in areas like the upper back, or posterior neck, commonly referred to as 'buffalo hump.' This condition can be easily treated by Dr. Torres with Tumescent Liposuction.
Frequently Asked Questions
What are the treatments for facial wasting?
Doctor Torres uses facial fillers such as (Radiesse®, Perlane®, Restylane®, and Sculptra ) to replace fat lost by facial wasting. Because these two different facial fillers work differently and for different lengths of time, they can be used in combination or one at a time. Both are semi-permanent solutions, administered by a dermatologist, that may require additional treatments every few years.
Do filler injections hurt?
There is some discomfort associated with facial filler treatment, but the pain is manageable. Dr. Omar Torres uses microcannulas instead of needles and this makes the experience much less painful than older techniques. We also use numbing cream to reduce pain and all of the facial fillers are formulated with lidocaine, a local anesthetic.
What is recovery like for filler injections?
One of the great things about filler injections is that treatments are associated with a relatively short recovery time. The most common problem is swelling and bruising related to the injections but many patients have minor or no bruising. Some patients do experience significant initial swelling which usually resolves in a day or two.
We Can Help You
Call us to schedule your appointment today at (212) 673-5633 or visit us at one of our conveniently located New York offices to learn more about our extensive line of cosmetic dermatology procedures and how they could transform your appearance.