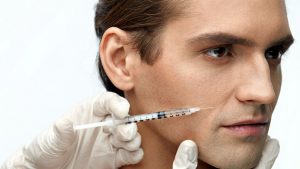 Dermal fillers are appropriately named. They do their job by filling wrinkles, creases, and areas of decreased volume by adding volume beneath the injection area and pushing the skin back upward. Some fillers also encourage the production of new collagen at the injection sites to lengthen their results.
Dr. Omar Torres only uses natural fillers. These fillers are basically made with hyaluronic acid. Hyaluronic acid naturally occurs in the human body; its job is to plump, hydrate, and firm the skin. It does this by binding with water molecules.
To smooth wrinkles, augment lips, and enhance the fullness and contour of the face, Dr. Torres injects skin with a variety of dermal fillers. His careful, precise technique and attention to detail help ensure that results match patient goals and expectations.
To find out if you're a good candidate for facial fillers—and to select the one that's right for you—please contact dermgroupNYC to set up a comprehensive consultation.
Frequently Asked Questions
Do Facial Fillers Hurt?
The idea of facial fillers can seem scary to many patients, due to a fear of pain resulting from the injections. Many fillers contain lidocaine, a mild anesthetic that helps minimize pain during and after treatment. However, some patients do report mild discomfort during treatment. This can depend on which areas are treated, and how much filler is used.
What Can I Expect When Getting a Facial Filler?
Before treatment, you'll have a consultation with your specialist. During this consultation, you'll establish which areas of the face you'll have treated, and how much filler will be injected. Your specialist will also ask questions about your medical history, to make sure you're a good candidate for treatment, in addition to performing a facial analysis.
Do Facial Fillers Have Side Effects?
As with any treatment, facial fillers have the potential for side effects. However, the side effects are typically mild and resolve within the first few hours or days following treatment.
We Can Help You
Call us to schedule your appointment today at (212) 673-5633 or visit us at one of our conveniently located New York offices to learn more about our extensive line of cosmetic dermatology procedures and how they could transform your appearance.