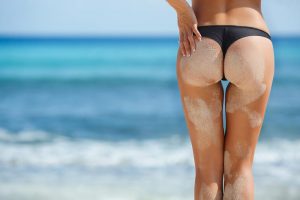 Buttock Augmentation
Buttock Augmentation is designed to improve the size and shape of a patient's buttocks so that it fits better to the figure and offers an attractive, prominent rear end. It is a method made popular by celebrities such as J.Lo. It is intended to produce a fuller, rounded and up-lifted buttock. Studies have shown that many people find a fuller buttock attractive. In recent years, the Brazilian Butt Lift has become very popular in pop culture due to the number of celebrities who have had the procedure done.
DermgroupNYC, under the direction of Dr. Omar Torres offers solutions for men and women with flat or poorly developed buttocks to enhance and shape the area to their liking. Many individuals wish to contour their buttocks to fit their body size and shape.
Buttock Lift surgery involves a selective, gentle liposuction technique, which harvests fat from different areas of the body, including the abdomen, back, hips, waist, thighs and arms. After the fat has been harvested it is purified and transferred into the proper area of the buttocks in multiple layers through small syringes connected to micro cannulas of 1.5 to 2 mm in diameter. The fat transfer begins in the deepest layers of the muscle and continues toward the surface in an interlacing fashion.