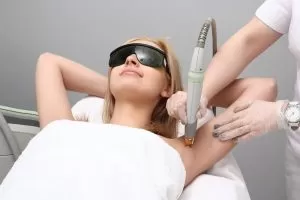 With cutting-edge technology and innovative techniques, DermGroupNYC dermatologists are able to address some of your most problematic skin and complexion issues. Giving patients a more youthful look, making skin smoother, more even-toned, and ultimately creating a firmer texture, our laser treatment options provide the results that patients are searching for.
Hair removal lasers reduce dark hair on a variety of skin types. Success without risking patient injury requires the right equipment, physician skill, and sticking to an appropriate treatment regimen. There is a constant flow of new devices, and we continuously evaluate and use the ones that we consider promising in terms of their efficacy, patient comfort and minimized potential side effects. The options we offer reflect our experience with more than a dozen different lasers that we have tried, and the ability to make fine adjustments and customize treatment for each patient's specific condition.
Laser hair removal can be used to clean up a chin with a few bristly hairs, tidy up a bikini line for the next swimsuit season (and every one after that), save time devoted to shaving every morning, or simply reduce unwanted hair long-term.
Selective Photothermolysis (SPT) is the primary method of laser hair removal. As the laser passes over the skin, a specific wavelength of light is absorbed by the hair root and transformed into heat. The heat causes thermal destruction of the hair follicle, which ultimately destroys the hair root. Through SPT, patients of all skin colors experience safe and long-term hair reduction.
Our laser hair removal procedures are performed by a board certified dermatologist that operates the device throughout the procedure and should not be compared to the laser hair removal services widely available in non-medical facilities from technicians with no medical training. The physician that will perform your procedure is trained to use the highest energy appropriate, and thus obtain the best results without exposing you to unnecessary risks.
Frequently Asked Questions
Who can get laser hair removal?
Women and men alike. Most women seek to remove hair from their underarms, bikini lines, and legs, while men are more interested in treating hair on their backs and necks. When hair removal lasers were initially introduced, the procedure was originally intended for patients with light skin and dark hairs. However, newer technologies systems safely and effectively treat patients of all skin types and hair colors.
What's the procedure like?
During treatment, a light-based system emits bright flashes of light into the skin where the unwanted hair resides. The hair follicles absorb the light energy, heat up, and become damaged. Each pulse of light energy takes a matter of seconds and treats multiple hairs at once, making this procedure very quick and easy to perform. Treatments can last anywhere from 10 to 30 minutes depending on the size of the area being treated.
What kind of results can patients expect?
Most patients require 5 to 8 treatments spaced 4 to 6 weeks apart to achieve desired results. With the technology, used by Dr. Torres virtually every patient – no matter their skin or hair type – can receive long-lasting removal results for unwanted hair. Patients with lighter hair may require more treatments than others, but will still see effective results by the end of their treatments.
We Can Help You
Call us to schedule your appointment today at (212) 673-5633 or visit us at one of our conveniently located New York offices to learn more about our extensive line of cosmetic dermatology procedures and how they could transform your appearance.