Dr. Omar Torres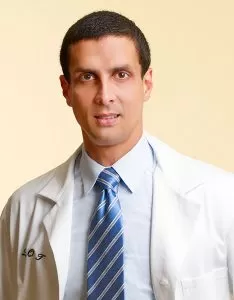 Dr. Omar Torres is a Board Certified dermatologist, as well as a Mohs and cosmetic surgeon. Dr. Torres completed his dermatology residency at Columbia University's St. Luke's-Roosevelt-Beth Israel Medical Center in New York, where he currently is an Assistant Attending and served as Chief Resident. Dr. Torres performed countless rejuvenating surgical procedures including facelifts, blepharoplasties, liposuctions, and laser treatments during an intensive two-year Mohs and cosmetic surgery program accredited by the American Association of Cosmetic Surgery.
He is a clinical professor and the Director of the Eyelid Surgery Clinic at the Department of Dermatology at the University of Puerto Rico and provides pro bono medical care to low-income patients.
A keynote speaker for various national and international dermatological and cosmetic surgery conferences, Dr. Torres teaches Mohs and cosmetic surgery in a Procedural Dermatology Fellowship accredited by the ACGME (the American Medical Board that sets the standards and the only recognizable body that accredits doctors and their specialties in the United States).
Dr. Torres has authored articles and publications on timely topics pertaining to cosmetic surgery and dermatology. He is a member of various professional organizations including the American Academy of Dermatology, the American Academy of Cosmetic Surgery, the American Academy of Dermatological Surgery, and the American Society for Mohs Surgery.
He is currently the Medical Director of DermGroupNYC in Gramercy Park in Manhattan, New York. Dr. Torres resides in Manhattan; he is an avid art collector and a former collegiate varsity tennis player.


---
Jessica Morales, RPA-C
Board Certified Registered Physician Assistant
Jessica Morales is a Board Certified Registered Physician Assistant in NYC. Jessica graduated from the Sophie Davis PA program at City College in 2013. Before pursuing her career in PA studies, Jessica was an NYC 7th and 8th-grade science teacher in the Bronx, NY.
In teaching her students to follow their passions, she realized she needed to follow her passion and pursue a career in medicine. After graduating from her PA program Jessica worked in Primary Care and Emergency Medicine until she was given the opportunity to work with Doctor Omar Torres at DermGroupNYC. At DermGroupNYC Jessica diagnoses, creates a plan of action and treatment for all her dermatology patients in conditions such as eczema, psoriasis, dry skin acne, rosacea and other complex skin ailments.
Aside from her career in dermatology, Jessica is an Amateur boxer and runner. She is happily married with a 9 y/0 son and resides in Harlem New York.


---
Maria Gabriela Nunez, RPA-C
Board Certified Registered Physician Assistant
Maria Gabriela Nunez chose to pursue a career as a physician assistant (PA) after several years of working as a Medical Assistant. Her desire to find a challenging career in the medical field that directly impacted patients' lives made PA the ideal professional option for her.
Maria Gabriela Nunez began her career as a PA in 2012 in the Department of Medicine at New York Presbyterian Hospital. Drawn to the complex challenges of dermatology, and the opportunity to build long-lasting connections with her patients, Maria Gabriela started her dermatology career in 2017. As a physician assistant (PA) she enjoys getting to know and care for markedly diverse patients who require her expertise. Maria Gabriela is fluent in Spanish as well as English. She cannot imagine another career for which she would be better suited. 
Maria Gabriela graduated from York College/CUNY obtaining her degree in Physician Assistant Studies. She is a certified by NCCPA (National Commission on Certification of Physician's Assistants). To stay at the top of her field, Maria frequently attends conferences and lectures. Maria Gabriela has lived in New York for over a decade with her husband and kids and nothing makes her happier than spending time with them.
---
Raquel Gomes-Rosenfeld, RPA-C
Board Certified Dermatology Physician Assistant
Raquel Gomes-Rosenfeld is a Board Certified Dermatology Physician Assistant. Prior to pursuing her career in Physician Assistant Studies Raquel studied at Stony Brook University and obtained a Bachelor of Science Degree in Psychology in 2006.
While pursuing her BS degree Raquel worked as a medical assistant in a Dermatology group on Long Island, which is where her interest in Dermatology first began. Raquel was already on the road to becoming a PA but this position made it clear that dermatology was the specialty she aspired to work in. Raquel then went on to complete her Physician Assistant Studies at Hofstra University's Physician Assistant Program, graduating in December of 2009. Soon after graduating Raquel began working with Dr. Omar Torres at DermgroupNYC and has been with the practice since April of 2010. Raquel was raised in Queens and currently resides in Monroe, NY with her husband, two and a half-year-old daughter and two dogs. Raquel is fluent in English, Portuguese and Spanish and enjoys the diversity of her patients and the connections she has made over the years of managing her patients at DermgroupNYC.